The Daystar 90/728 Limited Warranty
Daystar provides a unique 90 day - full, 728 day - extended warranty to ensure that you have a successful and extended computing experience. The Daystar warranty includes the industries only "immediate replacement assurance".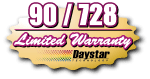 The hardware warranty includes:
An initial 30 days free phone support
An initial 90 days of full repair or replacement
Followed by 728 days under our extended warranty plan (repairs at a 50% labor discount).
The software warranty includes:
Free upgrades to any release during the first 90 days of ownership
Followed by 728 days under our extended warranty plan (upgrades at a 50% discount).
Note: Advance shipments and immediate shipments are handled on case by case basis, depending on supply / inventory.
The Legalease

Daystar Technologies, Inc., dba Daystar Technology warrants products manufactured and sold by Daystar Technology to be free from any defects in materials or workmanship to the initial purchaser for 90 days from the date of purchase. Repairs are coverd for the first 90 days. If the product problem is deemed to be caused by user error, then Daystar will provide repair labor at 50% of its normal published labor rate during the initial 90 day period.
Daystar further provides a 728 day extended warranty to take effect after the initial 90 day period in which Daystar will repair any defective or broken product at a discounted rate of 50% off of normal published labor rates and 10% off of normal published parts rates.
This warranty is in lieu of all other warranties expressed or implied. In no event shall the manufacturer be liable for incidental or consequential damages including personal injury. This product is intended for use in only those computer models listed in the operating instructions or on the package.



---