XLR8 500 MHz MACh Carrier G3 upgrade car

The XLR8 ProView USB video capture, allows easy, full-screen, real-time capture from any video device into Apple QuickTime. It's fully compatible with Mac OS X! It also supports AppleScript automation. ProView blends ease of use with fantastic video quality, all for a price anyone can afford!



ProView USB built for QuickTime, including MPEG-4. It's hardware supported 640 x 480 capture delivers the greatest quality video possible... beating out systems costing tens of thousands more. Why? It's optimized for QuickTime and USB 2.0, right out of the box - just plug in and go!

XLR8 ProView USB includes all the hardware and software any user needs to grab video/audio from any normal camera, recorder or deck. Its universal drivers support the widest range of applications possible.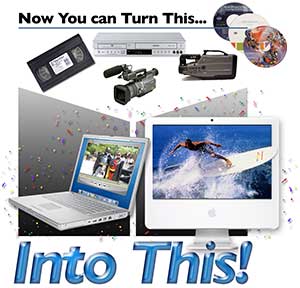 Features of XLR8's ProView USB include;
Full-screen capture via USB 2.0.

VideoImpression capture and editing .

VideoGlide Capture software for Mac OS X.

QuickTime capture and editing.

RCA or S-Video composite video input.

Standard mini-jack audio input.

High contrast, high quality video.

Capture RAW or compressed for disk savings.

Single frame capture - 640 x 480.

Automation via AppleScript

Export movies to any QuickTime supported format, including iMovie DV and DVStreams without having to purchase QuickTime Pro!

No matter what type of video source you wish to capture from, ProView USB is the easy choice for making full-screen video clips for sharing, viewing, DVDs, or just enjoying your family videos on your Mac.

View the Press Release! Printable Product Sheet (PDF)

Requirements

Features
System Requirements
Any USB 2.0 and Sound-in Equipped or Upgraded:

Apple Power Macintosh G4, or G5

iMac G4, G5 or Intel-based.

PowerBook G4

MacBook

MacBook Pro

Mac Mini

Software Requirements
Mac OS X 10.3.5 or greater



Capture Support
Video via S-Video or Composite RCA to USB 2.0.
Audio via RCA stereo to mini-jack stereo :

Included Software
ProView USB (Universal bianaries for Intel and PowerPC) device drivers for OS X
Video Capture for OSX
iMovie Video Conversion Utility

Product Availability
Massive Third Party Capture Choices...

ProView USB Video Capture
For USB 2.0, in OSX.

USB2PVOSX

---

Distriuted Exclusively By:
Victory Multimedia Distribution


VIEW APPLICATIONS PAGE!
Apple iMovie, QuickTime Broadcaster, ArKaos VJ, bTV and bTV Pro, SecuritySpy, iStopMotion, Max/MSP and Jitter, iVisit, Video Viewer, iChalk, Oculus, HomeGuardian, Session, Yahoo! Messenger, Adobe Premiere, Apple Final Cut Pro, econ ImageCaster*





Here's some other applications you might like to try with your XtraView Video Transfer Package: