---
3550 Lawrenceville-Suwanee Rd. #107, Suwanee, GA 30024 USA - Gary Dailey: 404-625-7432,
[email protected]
---
For Immediate Release
Click for Print Friendly Version

Daystar Ships "New, High Quality" USB Video Capture...
introducing XLR8 InterView 3.0!
Real-time 320 x 240, internet ready, USB video capture from one or more
cameras, decks or recorders in Mac OS 9, Mac OS X and Windows XP.


Atlanta, Georgia, July 16, 2004: Daystar Technology, a leading Macintosh Technology Integrator, has expanded the XLR8 USB Video Capture technology to deliver higher quality, and new functionality from its award winning XLR8 InterView Video Capture product.
Combining technologies from XLR8, iRez, ArcSoft and EchoFX, Daystar has expanded InterView for multiple device support, and Windows XP compatibility. For ease of use, Daystar has added the ArcSoft VideoImpression (v1) editing and capture application. VideoImpression provides an 'iMovie' like interface for use in Mac OS X, Mac OS 9 and Windows XP.
XLR8 InterView 3.0 includes all the hardware and software any user needs to grab video/audio from any normal camera, recorder or deck. It is also excellent for webcam and security camera applications. Its universal drivers support a wide range of applications and allow multiple cameras on the same system (one Interview for each camera).
Features of InterView 3.0 include;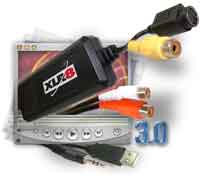 Real-time Internet Ready Video Capture to any USB equipped system (500 MHz or faster).

352 x 240, 29.97 fps NTSC
352 x 288, 25 fps PAL/SECAM

VideoImpression Capture and Editing for Mac OS 9, Mac OS X and Windows XP.
S-Video and RCA (standard) composite video and stereo audio input. Supports any USB equipped system!
High contrast, high quality video - better than DV at the same size.
Low Disk space requirements - 4 GB per hour for video and audio.
High resolution single frame capture - 640 x 480.
Fast Record Playback, for near real-time playback during captures.
AppleScript enabled capture software for full automation capability.
Export movies to any QuickTime supported format, including iMovie DV and DVStreams without having to purchase QuickTime Pro!
QuickTime Broadcaster compatibility, delivering the ability for users to get professional quality MPEG-4 streaming, even in low-bandwidth situations .
"We wanted to provide a solution that delivers fast video at a size that is easily viewed on the internet," said Gary Dailey, president of Daystar. "For standard internet sized video, InterView with its hardware based resize and compression technology, delivers better quality than the highest priced Pro DV systems available. At $89, it is the perfect solution for home users and professionals."


About Daystar and XLR8 Brand Products
Daystar Technology is a Macintosh Technology Integrator. Daystar specializes in developing custom solutions, and integrating leading performance technologies for consumers, enterprise and graphics professionals. The company operates as an Apple Authorized Reseller and Service center for local clients, and maintains a staff of Apple Certified Technicians. Daystar is also the designer and manufacturer of XLR8 brand products. With its history from the early days of the Mac as DayStar Digital, Inc., the company continues to deliver the best of the best for the Apple based computing platform.
Daystar currently distributes XLR8 brand products and select, qualified performance and expansion products via its web store at http://Daystar-Store.com, via eBay and select resellers. Daystar offers a wide array of Apple performance products. It also sells and services Apple products via its store-front in Suwanee, Georgia.