---
3550 Lawrenceville-Suwanee Rd. #107, Suwanee, GA 30024 USA - Gary Dailey: 404-625-7432,
[email protected]
---
For Immediate Release
Click for Print Friendly Version
Product Info: http://xlr8.com/xtraview
View Item on the Store
XLR8 XtraView... all-in-one video transfer for iDVD®, and iPod® ships!
Easy full-screen capture and transfer from VHS, Hi-8, DVD or satellite to iDVD and iPod .

Suwanee, Georgia, October 31, 2006 - Daystar Technology, the leader in USB based video capture on the Mac, delivered another milestone in multimedia creation... the introduction of the new XLR8® XtraView™, video transfer solution for Mac® OS X. This new USB 2.0 based, all-in-one package, integrates easy "click and record" video capture with a fully native, fully universal QuickTime conversion interface. The result is an end-to-end video transfer solution for moving non-DV (Digital Video) sources like VHS, Hi-8, laser and satellite, to iDVD, DVD, CD and iPods.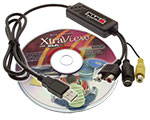 Everything you need.
XtraView includes everything users need to capture, edit and create:
The XtraView device allows both audio and video to be capture via a single USB 2.0 device (no sound-in port required!).

The XtraView capture software uses a simple "click and record" interface to transform any S-Video or RCA video source into QuickTime movies.

The bundled XtraView Exporter package allows uses to convert their QuickTime captures for use in iMovie, iDVD, or viewing on iPods. and TV!

The XtraView package also include ArcSoft's VideoImpression 2.0 software which integrates capture and creation into one simple iMovie-line application. Unlike iMovie though, VideoImpression works easily with smaller video sizes (iMovie forces all files to the larger DV formats).
"What does XtraView give users? Well... for the first time ever, Mac users can transform their non-DV videos into modern DVD and iPod video fomats, without paying an arm and a leg.", said Gary Dailey, president of Daystar. "Literally, XtraView unlocks the multimedia potential for the millions of Mac users with pre-digital video source material."
Available Now.
XtraView is currently shipping at a MSRP of $129
Its available direct via Daystar Technology, and through leading resellers.
Supported Systems.
XtraView is designed to work with all modern Apple systems. It requires only USB 2.0, and Mac OS X 10.3.8 or later. QuickTime 7 and Mac OS X 10.4 are recommended for easy VHS/DVD-to-iPod transformations.