Suwanee, Georgia, June 1, 2007 - Daystar Technology, a leader in real-time video capture, is delivering more advances in Mac based multimedia creation. It is announcing the expansion of features and a new lower price on its XLR8® XtraView™ USB, the video-in solution for Mac® OS X.
Since its introduction last year, this simple USB 2.0 device has provided, easy to use, plug and play video on the Mac. Now, with its new features and price,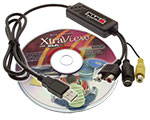 XtraView USB is fully Mac Universal, supports over 30 third-party add-ons (see http://xlr8.com/applications ) and is able to work as a high-performance security system, TV viewer / recorder, video digitizer or game console monitor.
"XtraView USB is the only device under $200 that can connect full-screen, real-time, raw uncompressed video to the Mac.", said Gary Dailey, president of Daystar. "It stands alone as a high quality, pro device... without the sync glitches seen using competitive compression based devices costing up to three times more!"
Game Console support in real-time, uncompressed.

PowerPC and Intel Universal.

Full-screen TV viewing from any tuner or player.

Perfectly synced recording to QuickTime.

Now only $89!
Everything you need.
XtraView includes everything users need to capture, edit and create: