---
5012 Bristol Ind. Way #108, Buford, GA 30518 USA - Gary Dailey: 404-625-7432,
[email protected]
---
For Immediate Release, October 25, 2003
Click to view PDF version
Daystar Technology Ships
XLR8 MAChSpeed Control - OSX, "PANTHER READY"
New version of the XLR8 software delivers
additional performance and peace of mind to fast Macs running Apple's latest OS.
Atlanta, Georgia, October 25, 2003: Daystar Technology, creators of the first Macintosh upgrades announced a new release of its MAChSpeed Control - OSX cache enabling, protection and testing software. This new version provides 100% compatibility in Mac OS X 10.3, as released yesterday by Apple Computer.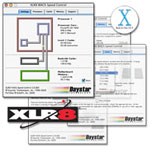 "Our customers appreciate MAChSpeed's exclusive cache profiling technology. " said Gary Dailey, president of Daystar. "Cache oriented system crashes can destroy a user's system. By ensuring they don't over-clock their system's capabilities, MAChSpeed protects the user, where other cache software can't".
MAChSpeed Control Exclusive Features Include;
Dedicated patches for platform specific issues, including...

NVRAM based Speculative Processing protection for PowerPC 750-7410 CPUs in six-slot (604e) PCI systems.

Firmware patches for Beige G3 systems running G4 CPUs.

Low-level System control to ensure maximum compatibility and stability.

Automated cache profiling, verification and testing at boot-up.

Automatic cache reset in the event of a cache related system shut-down.

Verification of available cache speeds preventing excessive over-clocking.

RAM Memory check and review.

Interactive Cache, CPU, RAM test when utility is open.
Additional MAChSpeed Control Features Include:
Easy installation and startup.

Write-back, and variable cache speed controls.

AltiVec (Velocity Engine) enabler built-in.

Compatibility: Any system with PowerPC 750-7410 CPU.